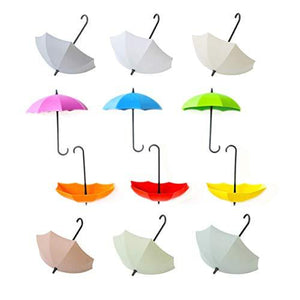 12Pcs Key Holders,12 Colorful Umbrella Shape Hooks,Wall Key Holder,Key Organizer For Keys, Jewelry And Other Small Items
Regular price
$18.01
Sale price
$30.88
Package include: 12pcs different color umbrella key holders.

Color: Red, Yellow, Orange, Green, Blue, Purple, Grey, Beige, White, Light Pink, Light Blue, Light Green.

Creative Umbrella Holder Organization: Self-stick design allows you to simply press the umbrellas into place! Removing them is just as easy, and they won't damage your walls.

Adhesive installation,can be also as a storage hooks,which is simple and convenient.

The key hook can hold less than 1kg items,such as clothes,towel,shopping bag,hangbag,organize your clips,scissors,pin,nail cutter,etc.
Specifications:
Material: Plastic.
Size: 10.8x 6.5 x 3 cm/ 4.25 x 2.56 x 1.20 inch,handle: 12cm/ 4.72inch.
Package includes: 12 x Umbrella Wall Hooks.
Can be used two different ways! With their handles facing down, the umbrellas work as wall hooks, and when they're upside down, their canopies are handy dishes for holding small items. Appications: In the bathroom, the umbrella wall hook can incorporate jewelry, wash brush, bath balls, etc.
In the kitchenthe umbrella wall hook can incorporate knife, clean ball, wash cloth, etc.
In the office, the umbrella wall hook is a very sweet little assistant, to receive a small gummed paper, small keys, and so on.