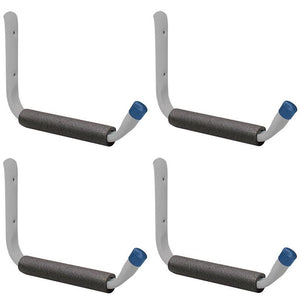 (4) ea Crawford HGSH 12" Jumbo Arm Ladder / Tool / Garage Storage Hooks
Regular price
$38.93
$0.00
FREE Fedex Ground shipping to anywhere in the continental USA!
Set of (4) new Crawford 12" Super Hooks by Crawford Products / Jarden Safety 
Quantity of (4) :
12" Arm Super Storage Hooks 
Organize Heavy Step Ladders, Lumber, Sports Equipment, Leaf Blowers, Electric Snow Blower, Patio Umbrella and Chairs & Lawn Spreaders 

For Use In Garage, Basement, Shed Or Attic 

Holds Up To 50 Lbs 

Non Slip, No Mar Foam Arm To Protect Valuable Items 

Mounting Surface Should Be Solid Wood At Least 1" Thick & Strong Enough To Hold Intended Weight 

Accommodates Up to 12" Shelf 

Mounting Screws Included 

Dimensions: Approx. 12" deep x 10" tall x 1-3/16"