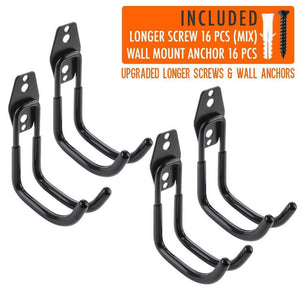 4pcs Garage Hooks for Hanging Ladder Hose Extension Cord Shovel Bike Chair Garden Tools, [UPGRADE VERSION] Wall Mount Hanger and Storage with Longer Screws Hardware Included and Anti Slip Rubber
Regular price
$15.99
Sale price
$17.99
Brand: FYBREX
Color: Set of 4 Medium Round Hook
Features:
☆ PERFECT STORAGE HOOKS FOR HEAVY OBJECTS - This heavy duty garage tool organizer consists of 4 wall mounted u-hooks. The extended length and anti-slip coating let you organize and hang heavy objects for up to 33 lbs. Strong enough to hang ladders, a lawnmower, an extension cord, and sawhorses!
☆ 4 LONG HOOKS FOR EVERY NEED - The storage hooks comes in set of 4 for hanging an assortment of items. It gives you plenty of options for hanging equipment like outdoor tools, weed eater, chairs, bike, and garden tools.
☆ LONGER SCREW AND WALL PLUGS INCLUDED - We give 8 pcs 1" (0.25 cm) screws, 8 pcs 1.2" (3 cm) screws, and 16 pcs wall anchor. The ladder hook can be installed on drywall, wall stud and other wall types neatly and quickly. The notches and spike at the back of the plate allow you to fasten or adjust the hook plates easier.
☆ ANTI SCRATCH AND NON SLIP - The hanging tools are made of heavy duty iron covered with soft rubber to protect your item from scratches and slip. They're durable to endure heavy weights and prevent slips for years of use!
☆ 100% SATISFACTION GUARANTEED - Use this sturdy garage hangers for your garage organizing systems system and get extra space in your house, garage, warehouse, or kitchen instantly! Order our tool storage hooks now before we run out of stock!
Publisher: FYBREX
Details:
The good quality and authentic Clip U Hook by FYBREX (TM) only sold by TODAY'S DEALS and Fulfilled By Amazon. Don't get fooled by the knock-offs!

Smart Storage Solution for Your Garage Walls

You've come to the right place if you want to have the best garage storage solution for your home. Our ladder hook comes in set of 4 hooks for hanging an assortment of items on the garage walls. It's able to hang heavy objects and create more space in the garage or any utility area.

You don't need to buy separate screw because the tool hook comes with 8 pcs 1" (0.25 cm) screws, 8 pcs 1.2" (3 cm) screws, and 16 pcs wall anchor. Just drill and hang! Easy to install and adjust with notches and the back spike.

Undeniable Reasons That Make You Love This Utility Hook
- Sturdy and well-made 4 hanging hooks for a variety of needs
- Holds up to 33 lbs! Perfect to hang lots of shovels rakes and tools
- Super easy and quick to install with hardware included

By using a drill and screwdriver, you can install this heavy duty hooks on any type of walls, like drywall and wall stud. The u-hooks and non-slip coating are made of iron and PVC materials, respectively. Reliable strong ladder hanging hooks for years of organizing heavy objects!

If our heavy duty tool hanger does not make your messy garage organized, don't tell your friend or buy the second set!

Specification:
Material: Iron (body), PVC (hook coating)
Color: Black
Weight: 21.6 ounces
Capacity: 33 lbs
Height 5", Length 4" , Width 1.5"
Set of: 4 pcs
Hardware: 8 pcs 1" (0.5 x 2.5 cm) screws, 8 pcs 1.2" (0.6 x 3 cm) screws, and 16 pcs wall anchor

(c) FYBREX (TM) - All Rights Reserved
UPC: 710587750235
EAN: 710587750235
Package Dimensions: 8.4 x 6.1 x 2.5 inches