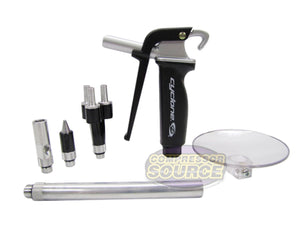 6 Pc. Cyclone F3 Xtreme-Flo Safety Air Gun Kit
Regular price
$48.95
$0.00
 Brand new Cyclone Extreme_Flo safety air blow gun kit. kit number (AG1200KIT). This kit is ideal for cleaning workshops, garages,equipment,and hard to reach places. 
The Extreme_Flo safety nozzle with help to increase the volume  of air that is released from the nozzle while drawing in ambient air through the two side ports which meet OSHA standards. 
The quiet flo safety nozzle incorporates the highly efficient that increases air flow while decreasing the amount  of compressed air that is used. 
This kit is durable with the cast aluminum body, with high volume output, and has a comfort grip gun to prevent fatigue. 
Specifications:
Brand: Legacy
Model: AG1200KIT
Part Number: AG1200KIT
Durable Cast Aluminum Body
High Volume
6" Extension
Quiet Flow Safety Nozzle
Tri Thrust Safety Nozzle
Xtreme Flo Safety Nozzle
Chip Guard
Cyclone F3 Blow Gun
Use when maximum cleaning force is needed to move large amounts of debris from heavy equipment, large machinery, etc.
User fatigue is reduced with ergonomic pistol grip and trigger.
Large storage hook.