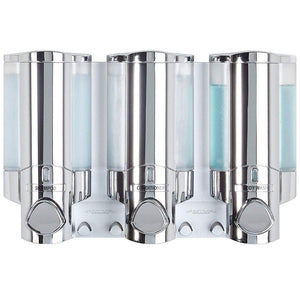 Aviva Triple Shower Soap Dispenser Chrome
Regular price
$139.00
$0.00
The AVIVA series of Soap Dispensers are the most beautiful solution for bath and shower organization.
An inspired combination of design, style and practicality, the Double and Triple size models also include handy storage hooks for razors and accessories.
Each dispenser holds up to 300ml, meaning you won't have to refill for months at a time.
If you're looking to completely conquer shower clutter, choose the AVIVA Soap Dispenser range!
Features:
- Eliminates shower bottle clutter
- 2 handy storage hooks for razors, loofahs and other shower accessories
- Individual chambers for easy refilling
- Each chamber holds 300ml of liquid
- Pumps dispense just the right amount... every time
- Smooth, reliable dispenser pumps have a Lifetime Warranty
- Installs in minutes without tools, using waterproof silicone adhesive