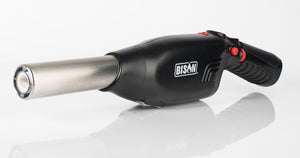 Bison Airlighter 420 Starter
Regular price
$69.99
$0.00
The Airlighter 420 is the faster, cleaner, and safer way to light BBQs, campfires, wood fireplaces and just about any other fire. It is also a cooking tool for searing meat, or caramelizing sugars and more.
Airlighters are the only fire lighters that combine a torch flame with an air-blower to both ignite and boost your fire. They ignite coals in 10-20 seconds, accelerate your fire to high heat in 1 minute or less, and have you ready to cook in only 5-6 minutes. Enjoy cleaner tasting food and say goodbye to unwanted lighter fluid taste.
No more lighter fluid flavor
Light and stoke fires without moving coals or wood
Ideal for charcoal briquettes and lump charcoal
Air-cooled operation keeps the Airlighter cool to the touch
Unlike chimney starters or typical electric starters, you don't have to worry about where to store it after use. It remains cool enough to not burn furniture or children.
Features:
Built-in blower provides 60 minutes of blower use with fresh batteries. Requires 3x AA batteries.
Refillable fuel tank provides 7-10 minutes of burn time
Adjustable flame control helps light fires in any conditions
Bottle opener / storage hook
Included in the box:
Airlighter 420
Instructions
Not Included in the box:
Airlighter Fuel
3 x AA batteries
See how it works (lighting lump charcoal):
Important: Airlighters do not come with fuel. Airlighter Fuel or other butane needs to be purchased separately. To ensure that your Airlighter is long lasting, we highly recommend using Airlighter Fuel as it is made for the Airlighter. It has been ultra filtered and has been tested not to clog the microscopic jets inside the fuel line. However, as long as you choose high quality non-clogging butane you can choose other brands of butane without voiding your Airlighter's warranty. The fuel is available for sale here on our website for $6.95. When used efficiently a single provides enough fuel to light for over 100 charcoal grills with an Airlighter.
WARNING: CONTENTS UNDER PRESSURE WHEN FILLED. DO NOT PUNCTURE OR INCINERATE CONTAINER. DO NOT EXPOSE TO HEAT OR STORE AT TEMPERATES ABOVE 120F (49C). KEEP OUT OF REACH OF CHILDREN.