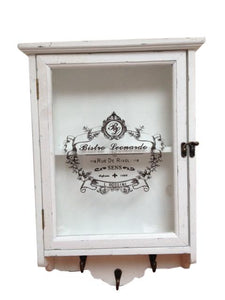 Country Chic Medicine Cabinet With Hooks Shabby Chic Distressed Wood
Regular price
$80.00
$0.00
Here at Home of Temptations (HOT Design), we have a BRAND NEW, shabby chic light weight wooden medicine / storage cabinet in distressed white, with three storage hooks.

Can be hung on the wall, off two hooks on the back.

Perfect for that special touch of boho chic that's very en vogue at the moment.

This gorgeous cabinet also channels an antique Provincial style with it's glass front door reading "Bistro Leonardo, 118 Rue De Rivoli 118, Sens, Dopuis 1868, L. Rossini" with beautiful scroll work.

This cabinet is great for storage in the bedroom for little knick nacks, bathroom as a small medicine cabinet / small bathroom supplies cabinet, kitchen for storing small spices, keys and bags.

Or pop it in the front entrance, with pot pourri inside and utilise the hooks for storing small hanging objects, scarves etc.

As it's such a stunning feature piece, it will fit in well in an old villa, character home or modern shabby chic styled home.

Dimensions: Approx 49cm x 30cm x 10cm. 
 
Layby? Most welcome. Please email homeoftemptations@gmail.com to enquire.

Please also note, from time to time stock listed may be out of stock due to high volume of sales. Please enquire prior to purchase.