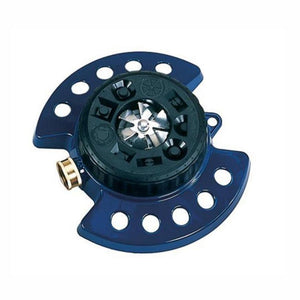 DRAMM | ColourStorm Turret Garden Sprinkler - Blue
Regular price
$76.90
$0.00
DRAMM ColourStorm Turret Garden Sprinkler - Blue
Keep the garden green, with a Colourstorm.
Featuring 9 different water patterns, perfect for lawn and garden care with the added benefit of kids water play! Easy fixing straight to your hose end.
Manual Programming gives you the flexibility to water only the area you need watered. Built with a durable, heavy-duty metal base with molded storage hook for easy hanging. Nuture your lawn with superior design and function...the DRAMM Sprinkler.
Choose from 6 cool color options: red, green, yellow, orange, blue and berry.
DRAMM back their products by offering a lifetime guarantee.
Any of the Garden range can be color coordinated with  or Watering Head Accessories
Allows the flexibility to water only the area you need watered; works for small and large yards. Made with heavy-duty metal base for durability and a molded hook for easy storage.
Features 9 water patterns! Perfect for lawn and garden care. Plus great for kids! Patterns range from circle to half-circle to rectangle and many more.
Zinc, and High-Impact Plastic
The DRAMM Story;
Dramm Corporation has been a leader in the world of watering tools and accessories for over 75 years. It all started with a vision by a man named John G. Dramm and his invention that revolutionized the way nurseries, greenhouses and gardeners watered their plants.
In 1941, John G. Dramm grew cut flowers for his florist shop in Wisconsin. Johnny always had a passion and a gift for invention. To efficientise the watering greenhouse crops quickly, he designed the 400 Water Breaker, which applied water with no damage to plants. This nozzle is now the standard of commercial growers worldwide.
In the 1990's the Dramm Corporation revolutionized watering tools by introducing color into its full range of Rain Wands, sprinklers and watering tools. Today, Dramm continue to provide durable and professional watering tools and accessories to nurseries, greenhouses and avid gardeners worldwide. Dramm endeavours to supply products that save you time and energy and also last a lifetime.