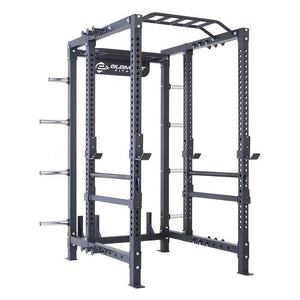 Element Fitness Elite Series Power Rack
Regular price
$2,499.00
Sale price
$3,499.00
Element Fitness Elite Series Power Rack
This thing is a beast to say the least! Not your conventional power rack, the Element Elite Series was designed with the professional athlete in mind. Using the thickest gauge steel and oversized bolts, this rack weighs in at over 500lbs.
Seeing the demand for elite products we decided to recruit , a professional Strength & Conditioning coach, to help us design this power rack. This rack does not cut any corners, and is loaded with features that are a must for facilities looking to produce elite athletes.
SPECIFICATIONS:
The 4mm (8 gauge) rack is a rare find in power racks, and this thickness guarantees stability and reliability when training your atheltes.
With 21" spacing between the weight holders, this rack allows you to stack your bumper plates from top to bottom.
Two multi-grip chin up stations with a choice of either 1" or 2" grips.
4 x Olympic bar holders to keep your rack organized
2 x chain / band storage hooks
8 x easily removable band pegs
Safety chain hooks
Laser cut numbered upright posts
Sumo base (for wide squat stance)
4 x J hooks included
2 x Safety Arms
2 x Negative press bars
 Measures: 46" W x 98" H x 68" 
*** Additional add on options such as Benches, Bars, Weight Plates and Lifting Accessories are sold separately ***
* Weight Plates, Bars, Bench and Chains shown NOT included
WARRANTY: limited to manufactures' defect and does not cover misuse, normal wear and tear
Residential USE – Lifetime Warranty on everything
Light Commercial USE- Lifetime Frame, 5 Years Parts and 1 Year Pads/ Cables/Handles/knobs/pins 
Commercial USE – 5 Year Frame/Parts – 90 days Pads/Cables/Handles/knobs/pins