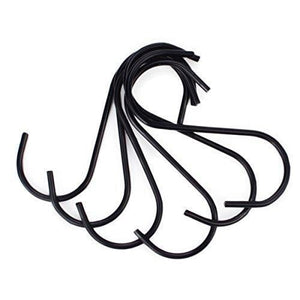 Flammi 20 Pack Heavy-Duty S Shaped Hooks Rustproof Black Finish Steel Kitchen S Type Hooks Hangers for Pans Pots Plants Bags Towels
Regular price
$8.49
Sale price
$11.97
Brand: F Flammi
Color: 20pcs
Features:
BluWhale is the ONLY SELLER of the F Flammi brand to ensure this product quality. Please be advised that other sellers' offers under this ASIN may not be selling the real actual products, and BluWhale will NOT be responsible and will be unable to assist you with those orders.
Rustproof sturdy steel hooks, its surface has an black coating with a matte finish
The storage hooks can hold up to 40 lb, they are made to hold heavier loads. Without worrying your items falling down. Hook size: Length 3.38"/86mm; Width of open end 1.18"/30mm; Thickness 3.2mm
S shape, widely used in closet, kitchen, bathroom, storage room, garage, workshop, office. Great for hanging treasures, plants, towels, cups, pots & pans or dozens of other uses around shop & home
Easy to use, no screws & nails, no need to install, designed for any kitchen. The hooks are removable and convenient to pack, you can take them for outdoor use
Publisher: F Flammi
Details: Flammi S Shaped Hooks
Our S hooks will give you a simple and brilliant storage solution for hanging almost anything in your kitchen,closet, workshop or garage where space is limited.

Basic Information
Material: steel with a matte finish black enamel coating
Overall length: 3.38"/86mm
Open end: 1.18"/30mm
Thickness: 3.2mm
Style: s shaped, round line
Load capacity: 40lb
Package: 20pcs and 10pcs S Hooks for choice

Why choose these s hooks?
[RUSTPROOF] These s hooks are made of sturdy steel with a matte finish black enamel coating to prevent rusting
[HEAVY DUTY] These strong hooks can holds up to 40 lbs. You can hang pots, pans, plant, gardening tools, ceiling light
[WIDE APPLICATION] Use it to hang shoes and towels when you go camping, on BBQ for hanging the utensils.They are also doing a great job being used as plants hangers. Suitable for hanging kitchenware, spoons, pans, pots, coffee mugs, utensils, bags, towels, plants, gardening tools, clothes, etc.
[CONVENIENT] Easy to use, no need to install, designed for any kitchen, keeps your kitchen in order. Also easy to carry with you for outdoor activities
[MULTIPACK] Package includes 20Pcs and 10Pcs for choice, get extra inexpensive hooks for many use
UPC: 706693796311
EAN: 0706693796311
Package Dimensions: 5.6 x 3.9 x 1.2 inches
These are a little less than 3 1/4 inches long and app 1 1/2 inches wide. They are very well made, strong, and sturdy. The do not bend!
By Kim G. Emerson on May 1, 2015
Hello,
Generally, this hook can stand up to 300℃, we suggest that don't let the hook contacts the food directly.
By BluWhale

 

 

on June 16, 2016
It is about 1.18inch (3cm)
By BluWhale

 

 

on August 7, 2015
I'd say about 3/4" or more. Don't have one in front of me, sorry. I'll get back to you tomorrow should no one else show up. I just received a different type from another vendor too.
By Ana Loggana on August 5, 2015
It's an enamel coating with a matte finish
By Liveandlove7211 on June 4, 2016
The coating is a black enamel.
By Jennifer Lynch on June 4, 2016
Feels like a powder coating. But the description says "Black Enamel Coated Metal".
By Danielle on June 3, 2016
The description provided by the seller says this: Black Enamel Coated Metal among other descriptive things:
Black Color Heavy-duty Steel S-hooks
Work great for Plants, Towels, Gardening Tools and many other use.…

 
By Ila in Maine on June 3, 2016
I'm not exactly sure what the substance is but it has remained intact with considerable vibrations. I use them to hang my collection of Starbuck's mugs--about 50 of them. When the washer is on spin it makes the rod they're hanging on jump up and down but the black hasn't chipped or rubbed off. Hope this helps.
By Michelle L Carter on June 3, 2016
I think it's just a really good black paint. I have had no problems with them chipping or scratching.. I really love mine.
By Pam C on June 3, 2016