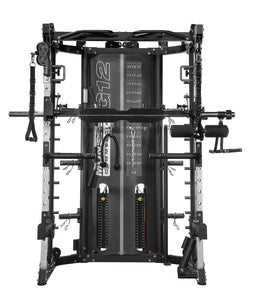 Force USA Monster Commercial G12
Regular price
$5,749.00
$0.00
Force USA Monster Commercial G12 Functional Trainer / Counter Balanced Smith Machine & Squat Rack with an enormous Dual 90.5K/201lb Weight stack total (181kg/ 402lb) built to the very highest of quality.
Designed to exceed strength training and rehabilitation goals for high-performance athletes, coaches, personal trainers or those wanting the edge while training at home.
Strength, Power, Bodybuilding, Muscular Endurance, Glycolytic Efficiency, Concentric or Eccentric (Negative) training, Compound or Isolation, Plyometric, Slow Twitch or Fast Twitch Fibres training. The Force USA Monster Commercial G12 is an all-in-one comprehensive training solution.
  


 

  

 

The Force USA Monster G12 is equipped with 2x 90.5kg/201lb weight stacks located at the back of the unit for complete resistance control on over 75+ different exercises. 




Loaded with a huge range of attachments to give you the competitive edge, The Force USA Monster G12 has included Leg Press, Core Trainer, Knee support for lat pull down, Lat Pull Down Bar, T-Bar, Olympic Lock Collars, Multi-Grip Dip Handles, Barbell J-hooks, Safety Spotting Arms & Many More attachments.

Keep your training space clean and tidy with built-in storage. The Force USA development team have added 6x Olympic sized weight plate holders, Olympic & Standard Barbell Holders & Storage Hooks for all of your attachments.

 

 


 

 

 

Counterbalanced commercial Smith Machine & commercial grade guide rails providing ultra smooth movement. Fitted with safe lock & release mechanics and safety catch allowing you to max out your training without the need for a spotter.

 

 
The only Functional Trainer of its kind to include the leg press attachment, for ease of use whilst maintaining a 5 Star Safety Rating.

 

 
 

  

 

  

  

 

 Ergonomically designed multi-Grip chin up / Pull Up station with a massive 350kg weight rating. Grip positions include wide-grip, Close grip, Underhand, Overhand and a stack of other varied movements.

 

 



 The Monster G12 includes 35+ Exercise chart built into the base unit to help build your workout routine and show you correct and safe movement patterns. 

  

 
  

 


 

 
The only Commercial Functional trainer with the ability to customise colour to suit your facility.

 
This is a comprehensive training solution for those athletes, coaches, personal trainers, sports teams or those wanting the ability to cover all bases of training in one machine.
Rated for use by high-performance athletes and teams, The Force USA Monster G12 is the Trainers preferred choice of equipment.
   
Unbeaten in its ability to perform over 75+ different movements on all areas of the body including shoulders, arms, chest, back, core and legs. The Monster G12 has Commercial sealed bearing pulleys along with high tensile aircraft cable rated at over 2000lbs to give you unsurpassable natural and fluid movement patterns. The Functional Trainer / Cable Crossover is packed with additional features and attachments.
   

   

Commercial grade J-Hooks and Safety Spotting Arms with safety locking, the G12 has been engineered to handle the heaviest of loads while protecting your barbell. Every J-Hook and Safety Spotting arm is covered with a removable nylon barbell protector sleeve to protect your barbell knurling and extend the life of your barbell.

   

   
  
Included in the Monster G12 is a suspension trainer ring compatible with packages sold separately such as TRX(TM) and others. Great for mixing up your training plan.

   

 

   
Extremely heavy gauge structured rolled steel tubing. Only the Highest grade steel is used in every component to ensure your Monster G12 is the highest quality and built to last.

   

   
Eco-friendly premium commercial grade powder coat followed by an extremely durable clear coating with anti-rust protection. The Force USA Monster G12 is durable and protected to last the test of time.

  

   

Never before have all of these options been possible within such a compact training space. An entire gym in one unit. The comprehensive training solution.

   

   

American innovation and design. Superior quality; strength and stability. Make sure it's Force USA. The trusted name in strength equipment.

   
What's Included?
Lat Pull Down Bar
Single Handle (Metal) (Pair)
Triceps Rope
Short Bar
Shiver Bar (Tricep Push) 
Straight Bar (long)
Extension Chain (Pair) 
6x Plate Holders
2x Oly-Lock Collar
Core Trainer (Rotating Holder) 
Barbell Holder
Leg Press Plate
Multi-grip Chin Bar
Exercise Chart
Lat Pull Down Knee Lock
Dip Bar (Pair) 
J-Hook (Short) (Pair)
J-Hook /Safety (long)(pair)
Barbell Row Handle
Optional Extras
Specifications
135cm (L) x 200cm (W) x 223cm (H)
1:1 Cable Ratio 
Compare