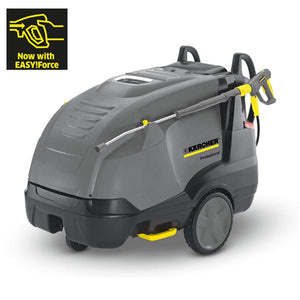 KARCHER HDS 10/20-4 M 4 (3 Phase Power)
Regular price
$0.00
$0.00
KARCHER HDS 10/20-4 M 4 Pole Motor 3 Phase Power Hot Water And Steam High Pressure Cleaner order no. 1.071-900.0
Kärcher's HDS middle class hot water high-pressure cleaners reach very high levels of performance, reliability and economy. With innovative features such as the eco!efficiency mode, offering fuel savings of up to 20% without compromising cleaning performance, 4-pole motors for high performance and long life, on-board diagnostics, and 3-year burner coil warranty, the HDS middle class range provides our customers with the toughness, cleaning power, and low running costs they demand. The HDS 10/20-4 M features a 4-pole, water-cooled electric motor with long-life bearings and a 3-piston axial pump with ceramic pistons. With water flow of up to 1000 litres per hour, and up to 200 bar pressure, the 10/20 is a great all-round machine with very high performance.


Features & Benefits
Save energy and time: EASY!Force high-pressure guns and EASY!Lock quick-release locks.
At last – work without getting tired: the EASY!Force high-pressure gun. EASY!Lock quick-release locks: durable and robust. And five times faster than screws.
Efficiency
In the Eco setting the unit operates in the most economical temperature range (60°C) with full water flow. Burner cycles are optimised to reduce fuel consumption by up to 20% compared to full-load operation.
Maximum efficiency
Highly efficient burner technology. 4-pole electric motor with 3 piston axial pump. Water-cooled motor for a high level of performance and durability.
Operational reliability
The large, integrated fine-mesh water filter reliably protects the high-pressure pump against dirt particles. An integrated exhaust gas thermostat switches off the drive motor if the exhaust gas temperature exceeds 300°C. The soft damping system (SDS) compensates for vibrations and pressure surges in the high-pressure system.
Storage
Safe and ample storage for protective gear, accessories and cleaning agents.
Storage hooks for power cord and high-pressure hose.
Mobility concept
"Jogger" design with large rubber tyre wheels and swivel castors.
Sturdy tie-down points for safe transit
Integrated tilting aid for effortlessly negotiating obstacles such as steps and kerbs.
Application Areas
Vehicle cleaning
Equipment and machinery cleaning
Workshop cleaning
Service station cleaning
Façade cleaning
Swimming pool cleaning
Cleaning production systems
Cleaning in production processes
Cleaning of sports facilities
Alternative part numbers :- 1071422, 1.071.422, 10714220, 1.071-422.0, 1071902, 1.071.902, 10719020, 1.071-902.0, 1.071.900, 10719000, 1071900, 1.071-900.0