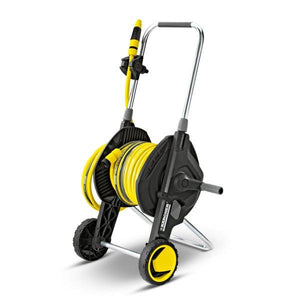 KARCHER HT 4.520 Hose Trolley Kit 20m
Regular price
$65.00
Sale price
$68.00
KARCHER HT 4.520 Hose Trolley Kit 20m order no. 2.645-168.0
The Kärcher Hose Trolley Kit HT 4520 is a fully assembled, mobile and easy to transport solution for your garden's watering and maintenance needs. Equipped with an accessory holder and storage hook, the height adjustable handle and angled hose connectors protects the hose against kinking, while the free-wheeling crank and innovative folding function ensures space-saving storage. Our Hose Trolley Kit saves you the extra labour of dragging your hose through the garden, while the long hose attachment keeps it clear of flower beds, planters and outdoor furniture. Ideal for watering medium to large sized gardens.
Features & Benefits:
1 Aqua Stop hose connector
20 m 1/2" PrimoFlex® hose
3 x hose connectors
1 angled hose connector
Ready-to-use
Accessory holder
Improved mobility
Free-wheeling crank for ergonomic unwinding and rewinding
Ergonomic un- and rewinding of hoses
Tap connector and reducer
Large wheels for excellent mobility
Improved mobility
Non-slip, ergonomic and height adjustable handle
Application Area's:
For watering medium-sized to large areas and gardens.
For watering under trees and bushes.
For watering large gardens.
Cleaning gardening tools and garden furniture.
Alternative part numbers :- 2645168, 2.645.168, 26451680