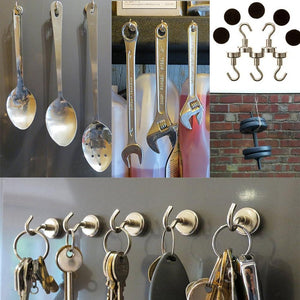 Magnetic Storage Hook (SET OF 5)
Regular price
$27.95
Sale price
$55.00
A POWERFUL AND DURABLE STORAGE MAGNETIC HOOK THAT HAS AND ENDLESS POSSIBILITY USAGE.

 
A product that gives you an INSTANT STORAGE SOLUTION that has an ENDLESS POSSIBILITY USAGE? That's possible with MAGNETIC STORAGE HOOK.
MAGNETIC STORAGE HOOK are magnetic hooks that can HANG on ANY METAL SURFACE and HOLD UP TO 10kg or 22lb weightobjects! No need for GLUE, SET UP, INSTALLATION, NAILS or SCREWS! It can be easily transfer and totally reusable!
PERFECT and SPECIALLY MADE for ORGANIZING your home, office, store, workshop, school, garage, anywhere will do because it can be used for outdoor and indoor. There are ENDLESS WAYS to use the hooks, vertically or horizontally, name it and it will work!
MAGNETIC STORAGE HOOK has a PREMIUM FINISH. It is incorporated with SUPER STRONG NEODYMIUM RARE EARTH MAGNET and A3 STEEL that makes the hook very POWERFUL, STURDY and DURABLE. It is also plated with three layers of PROTECTIVE COATINGS: Nickel, Copper and Nickel that RESISTS RUST and CORROSION making the hook ideal for a LONG TERM of usage.