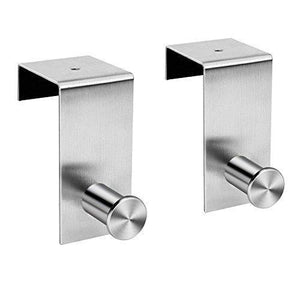 Over The Door Hooks Hanger Towel Rack - 18/8 Stainless Steel Multiple Use Z Shaped Hanging Over Door Hooks Use for Kitchen, Bathroom, Bedroom, Office, Cabinet Door Storage Organizer (2 Pack)
Regular price
$9.99
Sale price
$12.99
Brand: Tider
Color: Silver
Features:
High quality, durable product: The Over-the-Door hook is made of durable 18/8 stainless steel with hand a polished finish which will resist scratches from daily use. Treated with special retro Silver finish, combined with superb craftsmanship, its rust resistant exterior keeps items from staining. You can also make full use of unused door space
Simple and classical styling: Made from recyclable Eco-friendly materials. It is not only sturdy and durable, but also refined and elegant, providing a vintage feeling. As a decorative hook that is perfect for the home (bedroom, bathroom, dinning room, living room, cabinet, doorway, hallway... ) office, themed restaurant, hotel and more
Perfect use: It fits any standard door up to 1-5/8" thick. It can be hung on most doors and with its slim and sturdy design, it does not obstruct the closure of the door. You can hang and store your heavy overcoat, robe, jackets, backpack, hats, scarves or just about anything such as towels, keys other personal belongings
Easy convenient storage hooks: It is easy to mount. No drill required. No glue required. Easy to remove leaving no signs it was ever there. The edges are smooth, rust resistant and won't scratch your door and your objects. Looks beautiful and hangs easily and it doesn't get in the way of closing the door. Easy to remove
Simple, beautiful and retro: You can also use the hooks to decorate your room's door, partition or clipboard to hang fun and festive decorations. It can add a vintage or elegant element to your beautiful room
Publisher: Tider
Warranty: If you have any question about the product you received, please contact tider without hesitation. We would try our best to help you and improve your purchasing experiences. One year replacement from the date of purchase.
Details:
*Featured in Better Homes & Garden Magazine June 2018!*
- Are you messy because of something?
- Not enough storage space due to limitations?
- Do you want to change all this?
If the answer is yes, we have the products you need, no glue, no nails, instant solutions!!!
- It can be used anywhere in the home or outdoors.
- Use for door frame, wardrobe, closet, locker, ambry, bed baluster, shower curtain, circular tube, kitchen, office, utility room, living room, mudroom, apartment, pantry, outdoor, camping, storage room, bar, locker room, garage, door frame, wardrobe, shoe cabinet, store content ark, drawer, bedrail, shower curtain, pipe, such as single or double drawer cabinet drawer ark, bedrooms, bathrooms and so on save storage space.
- Use these hooks to hang your towels, hats, hand bags, coat, hoodies, long coats, kitchenware, basket, robe, plastic bags, Kraft paper bags, handbags, pocket, backpacks, tie, baseball caps, garbage bag, napkin, bath towels, clothes, cloth, bathrobes, wreaths, wallets, guitar, keys, pants, clothes, sweatpants, scarf, trousers, slacks, umbrellas, kitchenware, outdoor/indoor grill, hang pots and pans, some heavy cast iron and some with thick handles and other uses, the use is very perfect.
- High quality stainless steel material:made of 18/8 stainless steel, strong and stable.
Note
- The dimensions of the hook. Reversible design so you can hang them on thin or thick doors. It can be hung on doors/partitions/hanging rods less than 1.69inches. It will not hang onto anything thicker.
Package list
2*Z hook.
1*package.
Customer Service
If you have any question about the product you received,please contact us without hesitation. We would try our best to help you
and improve your purchasing experiences. Warranty one year replacement warranty from the date of purchase
UPC: 755101378861
EAN: 0755101378861
Package Dimensions: 4.7 x 2.1 x 1.7 inches
60 pounds
By Tider Direct

 

 

on September 26, 2018