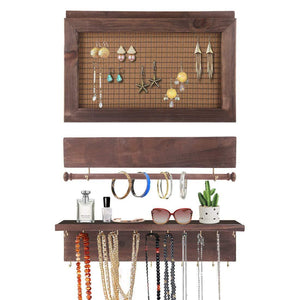 Surophy Rustic Brown Wall Mount Jewelry Organizer, Wall Hanging Jewelry Display with Removable Bracelet Rod from Wooden Wall-Mounted Mesh Jewelry Organizer Wooden Earring Bracelet Holder for Necklace
Regular price
$40.99
Sale price
$41.99
Brand: Mertonzo
Features:
CLASSIC: Organise your earrings, necklaces, bracelets, and perfume in a classy designed organiser to keep your jewellery tangle-free! The design is versatile so you could easily hang dangling earrings and even watches. Simple design to easily display your organized jewelry.
SIZE: Designed with 22 storage hooks and total 16.5 x 3.5 x 18" inches in size to fit your bedroo. Screws included for quick installation. No assembly required. Ideal for bedroom, can also be used as a mail & key centre in an entryway.
3 PIECES: This jewelry organizer made of 3 sturdy pinewood frame. One frame there is a mesh for hanging earrings. One of the organizer racks features a bar designed to hold bracelet and watch. The last organizer can hang necklaces, shelf to storage accessories, nail polish, essential oils and perfume.
DURABLE: We use stronger wood structure, bracelet rod and wood shelf of high quality, extend the service life of the organizer and durable rustic wood design showcases your jewelry in style. Uses high quality and environmentally friendly materials to keep things natural and powerful.
GIFT: This wall organizer is on many's wish list. Perfect for birthday gift, gifts for her, christmas gift, for the special one, perfect gifts for mom, wife, girlfriend or women you love.
Publisher: Mertonzo
Details: This wall mount organizer will provide ample storage of jewelry, accessories, and cosmetics. It is good to have a lot jewelry but it is better if you know every time where is your favorite pair of earrings or your favorite necklace.
If you keep your jewelry in boxes it is possible to make a big mess and damage or entangled your jewelry. It features a shelf and 22 hooks that will keep your necklaces tangle free.
So you will have more benefits- any time you will know where is your favorite piece of jewelry and you will have beautiful decorations on your walls. For saving your time and your patience every time when you will need jewelry.

-see all your items at first glance with nicely separated jewel while spending less time untangling long necklace, earrings, and bracelets.
-Perfect display for necklaces, bracelets, watches, and other fine jewelry pieces.
-It allowed you to use your wall space so you didn't clutter your dresser.
-You could even use this hanging organizer as a catchall in your entryway for keys, dog leashes and sunglasses.
-Avoid missing earrings.

Package Included:
1*Wall Organizer for earring(16.5 x 10.8" inches)
1*Wall Organizer for eracelets and watches(16.5 x 4" inches)
1*Wall Organizer for necklace(16.5 x 3.5" inches)
6*wall mounting screws
UPC: 192594334613
EAN: 192594334613
Package Dimensions: 17.4 x 13.7 x 5.2 inches