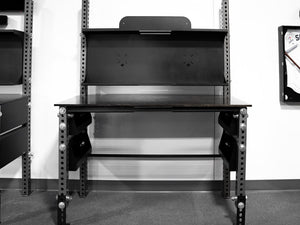 Standing Desk
Regular price
$2,349.50
$0.00
Specifications
   Made in USA         Yes
   Length                   73"
   Width                     30"
   Height                    96"
   Material                 11 Guage American Made Steel
   Finish                     Black Texture Powder Coat
Features
Stand-Up Modular Office Desk Station
Adjustable Height w/ 4 Bolt-On Storage Bins  
Hand-Made Wood Table Top  
Steel Back Panel w/ Dual Monitor Attachments
Optional Name Plate
Built for Attachments & Accessories
Benefits
Utilizing the same 11-Guage 4-Way Hole Tubing technology as our famous racks and gear, the Sorinex Standing Desk allows for ultimate office versatility in your home or workplace. Originally designed in 2015 for use inside our manufacturing and office spaces for our own team at Sorinex HQ. The stand-up design offers maximum versatility while accepting all of our patented Sorinex rack attachments. Attach storage hooks, pins, Jammer Arms or a JˣSquat™ right to your desk. 
Includes
Vertical Uprights (4)
Bolt-On Storage Bins (4)
Adjustable Feet (2) 
Steel Back Panel w/ Dual Monitor Attachments (1)
Hand-Made Wood Table Top (1)
All Necessary Hardware 
Resources/Downloads
---