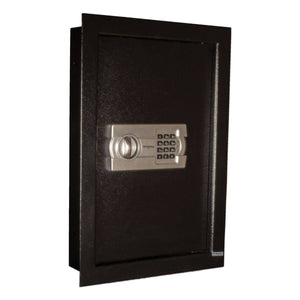 Tracker WS211404-E Wall Safe
Regular price
$105.00
Sale price
$140.00
Tracker WS211404-E Wall Safe
The Tracker WS211404-E Wall Safe helps to secure your valuables in a hidden safe that be concealed behind a picture, painting or other type of wall covering.  Many times during a burglary, the thieves are only in your home for 5-10 minutes and this is an excellent way to keep your precious items out of their view.
The Tracker WS211404-E Wall Safe is made with an 11 gauge steel door and a 16 gauge steel body.  It features two removable shelves and ten key hooks to help secure your extra automobile, house and business keys, etc. It also has an quick access electronic lock that features a key override as well.
Whether for home to safely store hand guns, money, credit cards, jewelry, etc. or for your business to store documents, money, credit card receipts, etc. this Tracker WS211404-E Wall Safe is perfect for your needs.
 If you have any questions regarding the Tracker WS211404-E Wall Safe with digital lock, please give us a call today at 800-207-2259!
Features:
Non-fire insulated front opening, left to right, steel security wall safe.
11 gauge steel door & 16 gauge steel body thickness.
The door is secured with two (2) 3/4" bolts and a reinforced door frame.
The body has two (2) 5/16" pre-drilled holes on each side of the safe, four (4) total, used for mounting. Mounting holes are 14.5" inches apart.
Ten (10) key storage hooks.
Two (2) removable shelves.
Felt carpet liners.
Mounting hardware included.
Specifications:
Weight: 27 lbs
Flange External Dimensions: H: 22.5" x W: 15.375" x D: 3.75"
External Dimensions: H: 20.75" x W: 13.875" x D: 3.625"
Internal Dimensions: H: 20.5" x W: 12.5" x D: 2.375"
Door Opening Size: H: 19.25" x W: 12.125"
External Volume:  0.60 cubic feet
Internal Volume:  0.35 cubic feet
Number of Locking Bolts: 2
Internal Hinges
Paint:  Black Powder Coat
Warranty:
Limited Lifetime Warranty against fire or attempted/actual break in. 
Lock:
Lock Type: Electronic Lock with key override 
Batteries: Four (4) AA required
2 Override Keys Provided
Uses:
This wall safe is design to be installed in a wall and is ideal for home or business use.
Good for securing hand guns, keys, cash, jewelry, and small important documents.