This guide to Santa Barbara RV parks was brought to you by our friends at Midland USA. Have you struggled backing your RV into a tight spot? A pair of two way radios can make communicating with your co-pilot simple. Say goodbye to frustrating hand signals and endless parking attempts with Midland walkie talkies. 
---
Santa Barbara might not be as famous as other California coastal cities, like San Diego and Los Angeles to the south, or San Jose and San Francisco to the north. But the "American Riviera," as the city likes to be known, has had a far bigger impact on the country than its population of just 92,000 might suggest. Santa Barbara is the birthplace of the Motel 6 chain, the Egg McMuffin, Sex Wax surfboard treatments, ranch dressing, and Earth Day.
It's also an outdoor paradise thanks to that famously Mediterranean SoCal weather, a south-facing coast, and proximity to Los Padres National Forest, Santa Ynez Mountains, and the unique Channel Islands. It's no wonder that Santa Barbara has been a resort destination since the 1870s, one that only increased in popularity after the famous Pacific Coast Highway was built, starting in the 1930s. Today, Santa Barbara is a low-key RV mecca that blends classic California car culture with Santa Barbara's sunshiney beaches and one-of-a-kind coastline.
Santa Barbara RV parks run the full gamut of SoCal life. There are the gleaming Airstream trailers refurbished to modern luxury nestled away in wine country. There are also plenty of campers used as permanent dwellings by surfers, dirtbags, and locals who live on four wheels to dodge stiff SoCal rents. In between the two extremes are outdoor enthusiasts and travelers drawn to this edge of central Cali for its south-facing coastline, hiking, surfing, paddle sports, mountain biking, and more.
If you need some help planning your trip, we recommend The Dyrt PRO, which allows you to downloaded maps and campgrounds to use offline.
Campers Love These 10 Santa Barbara RV Parks
Whatever brings you to the American Riviera, you'll need somewhere to park your rig. Fortunately, there's no shortage of Santa Barbara RV parks where you can find the right mix of amenities, natural wonders, seclusion, or urban access to design your perfect getaway.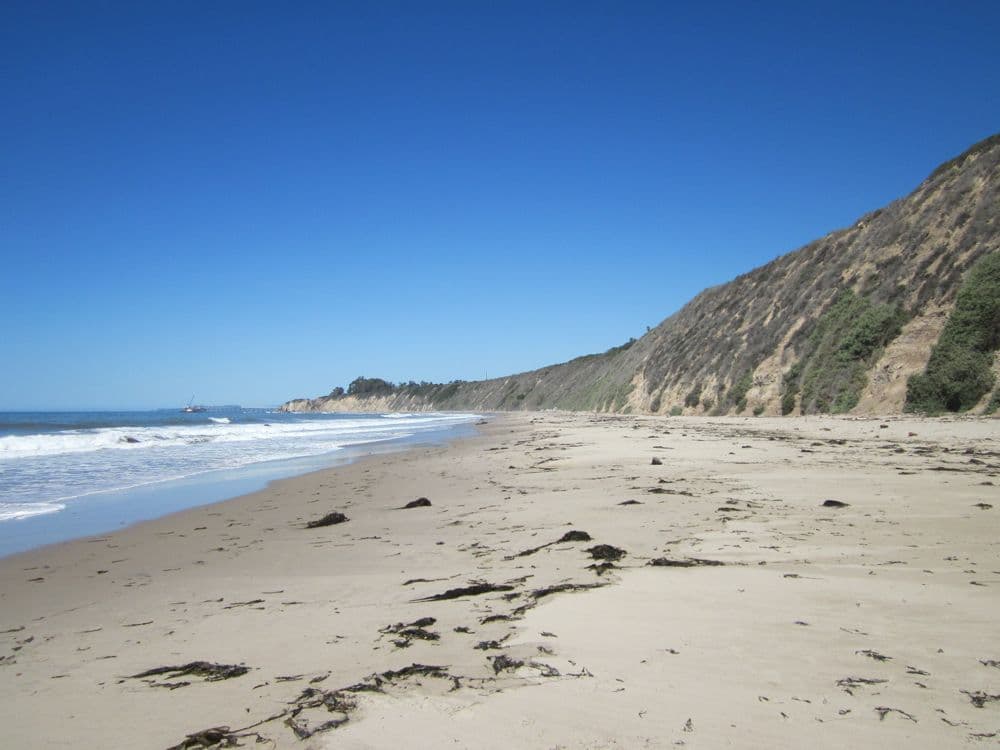 If you like camping near breweries, this is your spot. Rincon Brewery just inland from the prime surf spot it's named for, while Brew Lab has a chic industrial vibe overlooking the Carpinteria Salt Marsh Preserve. Fifteen minutes from the beach is Smoke Mountain Brewery, a boutique farm brewery located on top of Rincon Mountain. On the oceanfront, Island Brewery has some unusual offerings like avocado beer— and speaking of avocados, Carpinteria State Beach will give you prime access to Santa Barbara's Avocado Festival once a year.
Just a minute walk from the beach and tucked away amongst the dunes, Carpinteria State Beach is an RV'ers paradise that one camper on The Dyrt called "quintessential California beach camping." With full hookups, clean bathrooms, coin-operated showers, and nearby stores where you can stock up on food, drinks, and any camping supplies you forgot, you'll be plenty comfortable at this Santa Barbara RV park while you watch the waves— or dive in for a surf sesh.
"There are plenty of miles of bike trails as well as hiking tails to the bluffs that overlook a sea lion protected sanctuary But the most glorious reason to come here are the breathtaking sunsets viewable from your own campsite." –The Dyrt camper Luke L.
Surfers, unite! A beach campground that's just begging for you to bring your board, Refugio State Beach has some other great qualities. For one, it's a handicapped accessible campground that outdoor enthusiasts with disabilities can enjoy. For another, there's a group campsite with its own shower and a private loop. This Santa Barbara RV park has a store on site in case you forget anything. And RV campers won't be bothered by the strong ocean breezes that can bedevil tent campers at this spot.
"Nice campsite right on the beach with a little point break surf spot just at the end of the cove. Came down here to surf Rincon and ended up surfing this little point for most of the trip. The site was pretty nice, but boy can it get windy!" –The Dyrt camper Mauriel O.
---
Prepare for your next adventure by downloading maps. The Dyrt Pro lets you download maps and campgrounds without cell service. "My alternative to using pro would be to drive back out to cell service".
---
Santa Barbara is known for its beaches, but the mountains are breathtaking, too. Explore this other side to the American Riviera at Rancho Oso RV Resort, a Thousand Trails campground that's sometimes frequented by wildlife It's a steep drive up to Rancho Oso, so take it slow and steady in your rig.
Once you arrive though, you'll be met with resort-style amenities and easy access to the Santa Ynez River and Arroyo Burro Trail. Unplug and relax with guided horseback riding tours, boarding stables, volleyball and sand badminton, a swimming pool, and more. No RV? No problem. In addition to hosting rigs and travel trailers, Rancho Oso also has cabins, cottages, tipis, and a covered wagon you can rent that sleeps four.
"The campground is nice. There are wild turkeys that wander thru the campground and you will see an occasional deer or 2. Good & bad is that your wifi, cell service is very limited here." –The Dyrt camper Butch C.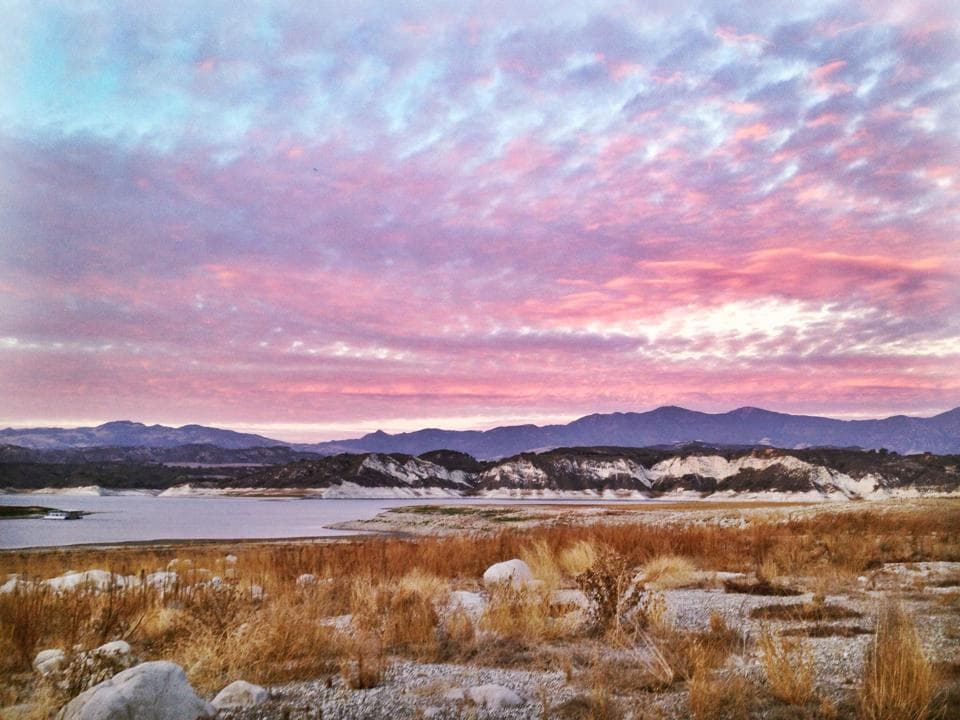 A sprawling Santa Barbara RV park with all the fixin's, Cachuma Lake has a variety of sites and lodging options for campers of all styles. There are tent sites, yurts, dry RV sites, and full hookup sites. There's also boat ramps and put-ins for Cachuma Lake itself, as well as rentable motor boats and pontoon boats and hourly kayak rentals. Hiking trails abound in Los Padres National Forest and on nearby Figueroa Mountain. You're also camping near wineries by the dozen, and can roll your own wine trail along Foxen Canyon Road.
If you love visiting kitschy towns with a quaint Alpine or Bavarian vibe like Leavenworth, Washington or Helen, Georgia, you'll love the Danish town of Solvang, complete with a classic windmill. Solvang is also home to The Elverhøj Museum of History & Art and The Solvang Vintage Motorcycle Museum if you're into learning more about vehicle history and the unique stories of how Dutch immigrants came to settle in southern California.
"Clean spacious sites, pool, laundry, grocery store, gas. Sites have fire pit, grill grate and picnic table. Great views of the sunset from our site #287. Beer and wine for sale. Pontoon wildlife cruises and kayaks for rent. Park rangers are so kind and knowledgeable about the park. Can't wait to come back!" –The Dyrt camper Ashley E.
On the Ventura/Los Angeles side of Santa Barbara, Lake Casitas has a little something for everyone. There's a disc golf course, playground equipment, and a water park. Lake Casitas also boasts a variety of sites for different camping styles, including sites that are accessible to campers with disabilities.
The sites at this Santa Barbara's RV park run from the small and dry to the large and fully equipped, with concrete pads that can handle even the big rigs. In addition to boating access for the lake, this Santa Barbara RV park even offers dry storage for water sports enthusiasts.
"We were referred to Lake Casitas by several people. Our kids and our dogs really enjoyed it. We liked that the campsite was spacious and had lots of shade. There weren't many bug or flies, which was great. The park has a tiny water park. Cute and perfect for families with small children." –The Dyrt camper Yenyfer B.
A prime destination for sportsmen, this spot on Santa Ynez River and near Cachuma Lake is popular with anglers, equestrians, and mountain bikers, as well as RVers. The lake is stocked with trout, but you'll find bass and carp, too. While Los Prietos isn't a horse camp, the Aliso National Recreation Trail is a 2.5-mile loop favored by horseback riders, cyclists, and hikers, while ATV drivers and dirtbikers like the Camuesa OHV Route just a few miles away.
Nearby Cold Springs Tavern is another place where you can soak up Santa Barbara camping history. It dates back to the 1800s, when the site was used as a stagecoach stop. In addition to cold brewskies, you can also chow down on some of Santa Barbara's famous tri-tip steak, a style of cowboy barbecue that dates back to the ranchos that dotted SoCal after the Spanish missions were secularized in the 1830s and broken up into farmland.
Knapp's Castle is also just twenty minutes away, the ruins of a once-grand mansion built by a chemical tycoon in the 1940s. The skeletal sandstone remains have been standing far longer now than the original structure, which was reduced to rubble just a month after completion when an epic wildfire blew through the hills around Santa Barbara. It's a short, fairly easy hike up to the Castle, but it is technically on private property.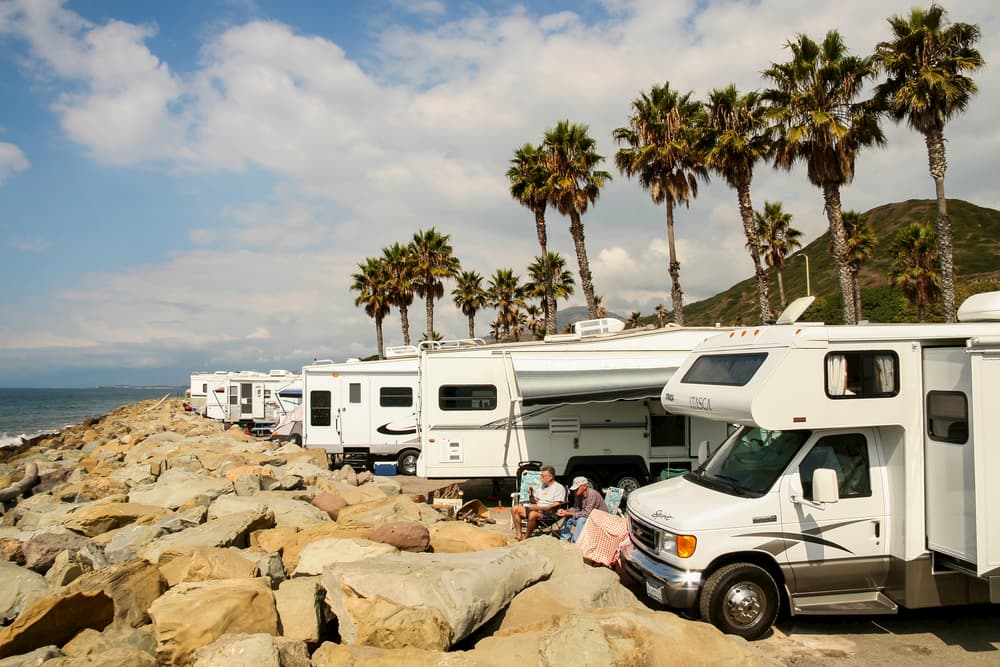 Close to Ventura, Faria RV Park affords absurdly good views of the Channel Islands. This archipelago is made up of eight islands, five of which are included in the Channel Islands National Park. If you read Island of the Blue Dolphins in elementary school, you're familiar with some of the history of the Channel Islands, including the removal of all but one Chumash Indian woman to the mainland in the 1800s.
Reservations at this Santa Barbara RV park are understandably competitive, so plan your trip in advance. You can make reservations between 48 hours to 180 days out from your arrival. Bring your #DyrtDog, too, as this is a dog-friendly beach and campground. There are showers, full hook ups (50/30/20 amp), WiFi, and an on-site eatery, too. Plus it's hard to beat Santa Barbara camping right on the beach, where you can watch the sun sink deep into the Pacific every evening.
"Mostly RVs, a few tent campers. It's easy to get to. Always hard to find a spot. But once you're in, it's totally worth it! The food at the cafe is awesome! The host is so friendly & helpful with info if you need help getting a spot. The beach is super clean and dog-friendly." –The Dyrt camper Melinda M.
Rincon Point is one of the best-known surfing destinations in the world and a cornerstone of California surf culture, immortalized in Beach Boys lyrics and by the Rincon Classic surfing championships that take place there every year. Long before surfers started catching curls here, though, Rincon Point was part of a vast rancho, like much of what became the Santa Barbara metro area. The mission-era history dates back, too, to the journey memorialized by the Juan Bautista de Anza National Historic Trail. Spanish colonizer Juan Bautista traveled thousands of miles from Sonora to San Francisco, including a February 24, 1776 stop at what is now Rincon Beach.
You can explore the waves and history for yourself at Rincon County Parkway RV, where there are 127 parking spaces available for RVers between Faria Beach Park and Hobson Beach Park. This is boondocking, essentially, without hookups or electricity. The other downside is that the spots are directly off the Pacific Coast Highway and next to the Coast Starlight railroad line, so this isn't the quietest Santa Barbara RV park. That said, the perk of these spots is pure coastline, giving you incredible access to the beach, the waves, and the sunsets.
"Dry camping by the sea. 50% chance you will have marine layer. But if you love the sound of waves crashing and seagulls then it's perfect! No amenities besides trash cans. Short drive or bike to Faria Beach that has a delicious cafe. Quiet time is 9pm-7am of which no generators can be used." –The Dyrt camper Charity A.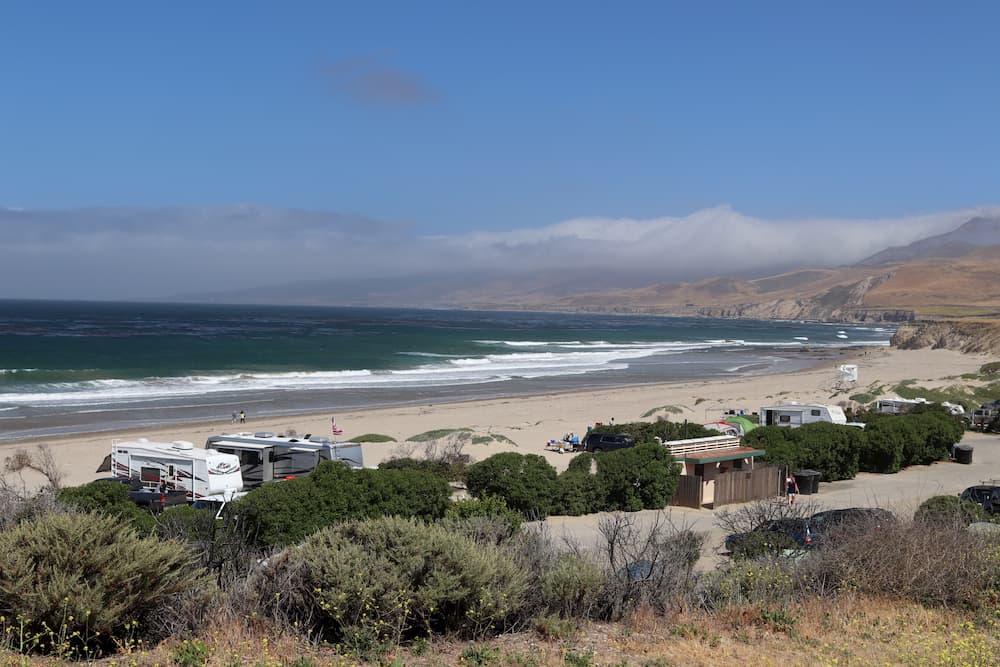 Happy dogs racing up and down the hard-packed sand, juicy burgers, technicolor sunsets, and ocean breezes— Jalama Beach is quintessential, laid back SoCal at its best. Throw in a playground, tiered campsites, cabins, and a convenient camp store, and you've got a seriously great Santa Barbara RV park.
Set on a westerly reach of the coast over an hour from Santa Barbara proper, you can really get the sense that you're at the ends of the earth. If the ends of the earth served up Jalama burgers and frosty shakes, that is. At the right time of year, brilliant red poppies blanket the hillsides between giant oak trees.
"This campground is right next to the beach and is well loved by the many return campers. The best campsites are 63 and 64, right on Abalone Point, with some scrubby trees you can hang a hammock in and access to the beach. If you are hard-siding in an RV, the best spots are 105, 112, and 115-117, which are up top, with great views of the migrating whales in early spring!" –The Dyrt camper Annie C.
To the Chumash natives, Mt. Pinos was the center of the world—called Liyikshup, or "the point where everything is in balance." It's a favorite campground for stargazers and astronomers thanks to its incredibly dark skies and high altitude— despite being part of the same San Gabriel mountain range that you can see from downtown Los Angeles. Mountain bikers who love hard climbs will enjoy the the single track off Mt. Pinos road, which powers up 1,500 feet over 3.5 miles, before you enjoy the summit, turn around, and fly down to the bottom.
Park your rig at Mt. Pinos campground. Perched at 7,800 feet, it afford excellent views of the surrounding Los Padres National Forest. This Santa Barbara RV park features 19 single campsites that include picnic tables and fire rings, but due to the small, remote nature of the campground, it's best to bring a smaller RV or travel trailer. There are two vault toilets if your RV isn't equipped with a bathroom, but little else in the way of amenities. Bring plenty of water and RV solar panels or generator if you need electricity.
---
This article  about Santa Barbara camping was brought to you by our friends at Midland USA

Their handheld two way radios make communication on the road easy.
---
Related Campgrounds:
The post 10 Santa Barbara RV Parks for Your "American Riviera" Getaway appeared first on The Dyrt Magazine.