Crocheting is an art. If you're starting with this popular needlework technique or have been crocheting for a little while, a crochet kit is ideal for testing your skills and uplifting your current crocheting game. 
Today, the crochet kit market has evolved to incorporate crafters of all skill levels. A crochet kit is specifically designed to cater to their needs, whether they are beginners or advanced crocheters. While a small 10-12 pieces starter kit may prove sufficient for new learners, a full-fledged 87 pieces kit is something professionals often look for. 
If you're a beginner and finding it difficult to find a crochet kit to invest in, here are seven options that won't disappoint you.
If you're a beginner make sure to check my video tutorials specifically designed to get you started:
Is Crochet Easier Than Knitting?
Both crochet and knitting are two popular arts of stitching yarn. Although commenting on which one out of these two is easier isn't simple, I vote for crochet as the simpler alternative to knitting for these four reasons.
Crochet is quicker than knitting

Crochet is easier to get hands-on even for a beginner. If you're a young learner, you can work with multiple shapes and patterns simultaneously

There is only one needle in crochet against two in knitting. Thus, less complication and no need to move fingers between two needles 

You can easily unravel crochet knots in case of mistakes or unevenness
These four pros are enough to make crocheting an easier yarn stitching technique than knitting. 
What Do You Need For A Crochet Kit?
Crochet isn't a machine-based technique to stitch yarn. It's completely an art of hand that requires a few simple hand-held tools that form your ideal crochet kit. As a beginner, here are the six crochet kit essentials you can't move without. 
Hook: Crocheting requires a single hook to create a knot. You'll find crocheting hooks in different lengths, sizes, and varieties. Choosing the perfect hook is essential to go ahead in crocheting.  
Yarn: Next important element of a crochet kit is yarn. Just like the hooks, yarn is available in a vast variety of materials, textures, durability, weights, and color. You must select a yarn depending upon your requirements or preferences. Beginners should get themselves a simple yarn that's easy to deal with, non-slippery, durable, and non-fluffy. 
Yarn Snippers (or simple scissors): To complete your crocheting project, you'll either need a pair of fine scissors or dedicated yarn snippers to snip off the extra yarn. Every crochet kit comes with a portable yarn snipper. 
Stitch Markers: Stitch markers are another useful crocheting tool to mark any location that needs your attention. You can use these markers to mark places where you need to change the color, stitch, or simply keep the count of stitches. 
Measuring tape: A measuring tape comes in handy when you have to prepare an item of certain dimensions. 
Darning Needle: Also called tapestry needles, a darning needle is used to sew the yarn ends and crocheted fabric together. They come in different shapes and sizes like the crochet hooks. 
Every best crochet kit includes these six crocheting essentials and more depending upon the skill levels they can cater to. Every best crochet kit includes these six crocheting essentials and more depending upon the skill levels they can cater to. As an extra, you could also consider buying a yarn ball winder which is, in my opinion, a very useful tool.
Is Crochet An Expensive Hobby?
No, crocheting isn't an expensive hobby. It's relatively economical and requires minimal tools to start with. As the starter, you need a crochet hook and yarn balls. On average, the starting cost of crocheting ranges from $10 to $20. 
Going ahead, the costs may decrease or increase depending upon the projects' needs and size. While small projects can be completed for under $50, bigger crocheting projects may leave you spending near to $100. 
As a thumb rule, you must limit your spending on yarn to minimize the overall crocheting costs. This is just because it utilizes more yarn than knitting or other yarn stitching techniques.   
Tip: You can source yarns from friends, sales, and via couponing at no cost to very nil. 
What Are The Important Features To Look For When You Choose A Starter Crochet Kit?
When looking for a beginner-friendly crochet kit, it's worth noting that not all crochet kits you'll find on the marketplace are designed keeping beginners in mind. While some may lack yarn (yes, some kits require you to purchase yarn separately), others may just include a hook and a couple of yarn balls!
Hence, here are the important features to look for when you choose a beginner crochet kit to avoid ending up paying for a not-so-useful kit. 
Skim through the list of items included in the crochet kit and make sure you're getting at least one crochet hook of the standard size. It's one of the most essential items you can't start without. 
Another element most crochet kits are sold online without is the yarn. Thus, let go of the kit if it lacks at least one yarn. It can be of any size, material, texture, and so on. 
Since we're talking about beginner crochet kits, it's good to have a clear and detailed instruction manual to understand the nuances of crocheting. It'll help you understand how this needlework technique works and what's there for you to explore. 
The entry-level crochet kits include the three staple elements – hook, yarn, and scissors. If you'd go for a more advanced kit, you'd get other accessories as well. These include stitch markers, darning needles, measuring tape, and more. 
Although you might not require these initially, big projects often ask for such accessories for a neat and clean finish. 
Here are the top 7 beginner crochet kits. 
Top 3 Contenders 
Let's explore each of these crochet kits in detail below.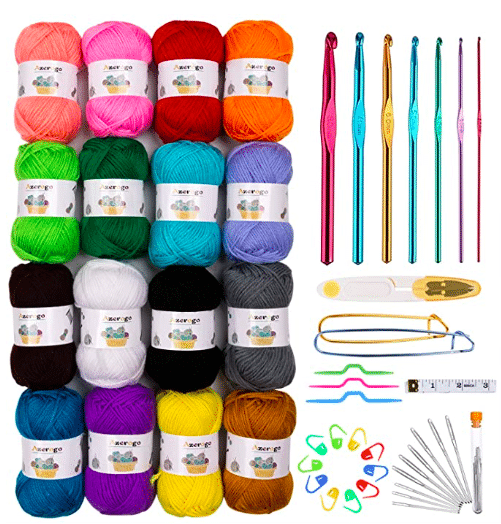 This Azerogo crochet kit consists of decent quality 41 pieces to make you fall in love with crocheting. Although the instruction manual is absent, you can look at online video tutorials to get started. This kit supports multiple projects, including amigurumi, knitting, granny squares, and more. 
The kit includes:
9 crochet hooks ( 2.0mm & 6.0mm), 

12 golden sewing needles,

10 locking stitch markers, 

1 row counter, 

1 measuring tape, 

2 stitch holders, 

1 gauge measure ruler, 

3 knitting needles, and

1 yarn cutter to create a broad range of craft projects
You get a complimentary zippered pouch to secure the crochet hooks and other small tools. There are 12 acrylic yarn skeins of 100-yards each. So, it doesn't require you to purchase yarns separately. 
Pros
Super soft acrylic yarn

Suitable for beginners

High-quality items
Cons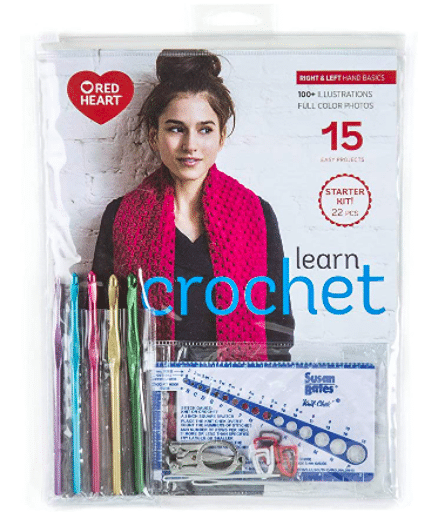 The best entry-level crochet kit has to be this kit from Susan Bates. Besides an easy-to-follow instruction manual (including left-hand instructions) with clear diagrams, you get 30 projects to try your hands at crocheting. 
This kit includes:
An Afghan hook,

5 metal crochet hooks (sizes G to K),

2 plastic darning needles,

7 stitch markers,

1 stitch gauge, and

A pair of scissors
You don't get any yarn inside the kit. However, the instruction book will help you in finding the best yarn to use. 
Pros
Clear and easy-to-read instructions manual

A good variety of crochet hooks

Soft grip markers
Cons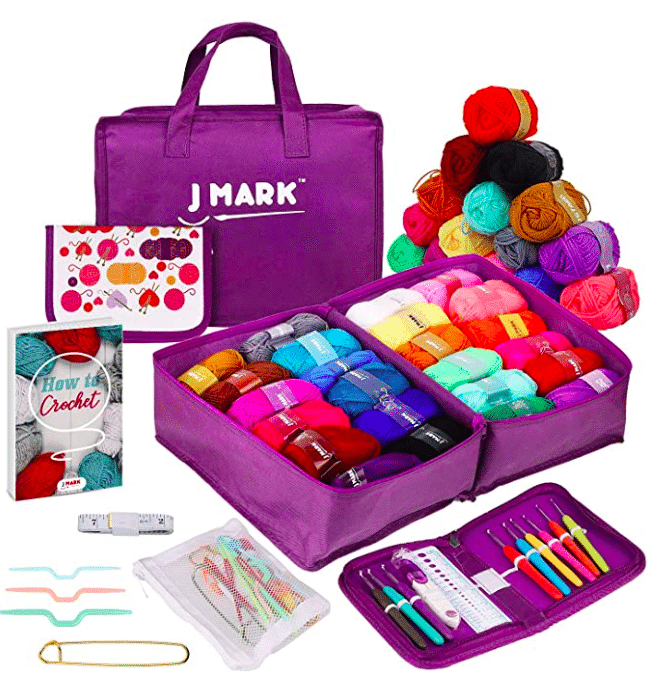 This J Mark Store crochet kit is suitable for beginners and professional crocheters. From basic craft projects to amigurumi, the kit's 87 pieces are enough for all. You get a wide collection of 48 vibrant acrylic yarn balls. Each yarn for crochet comprises 55 yards per skein. 
The kit includes:
48 premium acrylic yarn balls (25g each),

3 storage bags,

1 crochet book,

9 crochet hooks (2mm to 6mm),

6 knitting needles,

10 ergonomic hooks stitch,

10 locking stitch markers,

1 thread cutter, 

1 tape measurer,

1 knitting gauge, and more
Pros
Machine washable pieces

100% acrylic yarn balls

Easy to use

Suitable for both beginners and adults
Cons
Yarn isn't suitable for beginners 
Top 3 starter crochet kit contenders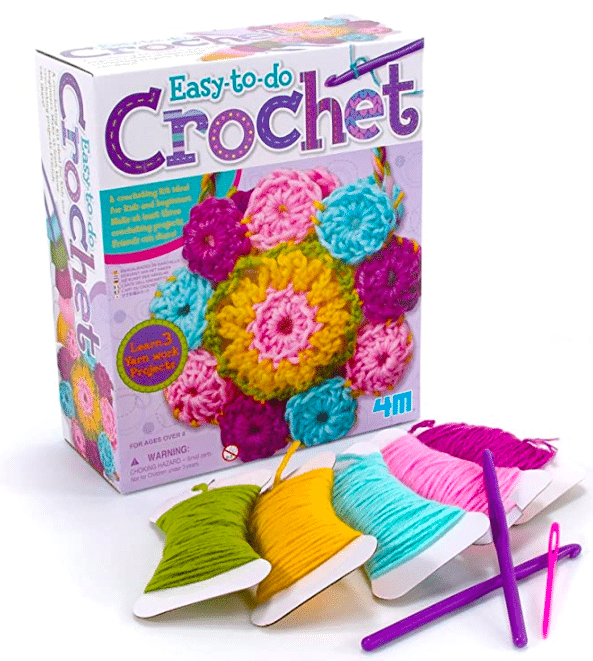 This 4M easy-to-use crochet kit is specifically designed for kids and teens. There is an illustrative guide with vibrant images for every step for both left and right-handed crafters. 
If you're not sure what to stitch first, this 4M kit has enough materials to help you create an amazing mini bag, belts, coaster sets, and mats. 
The kit includes:
2 plastic crochet hooks,

1 plastic darning needle, and

7 yarns
Kids who are 8-years or up can use the 4M kit to learn the fundamentals of crocheting. 
Pros
Designed for kids

14-page illustrative manual

Colorful yarns
Cons
No yarn scissor

Limited projects
No matter what your crochet skill levels are, this 73-piece crochet kit from CraftBud will surely uplift your current game. All the items included inside the kit are crafted from high-quality and soft material. Plus, you get a canvas tote bag to keep your crochet stuff organized. 
The kit includes:
4 needle point protectors,

10 stitch holders,

1 tape measure,

6 sewing needles,

15 acrylic yarn skeins,

Yarn scissor,

21 vibrant crochet hooks,

A canvas tote bag, and more
Pros
Suitable for kids, adults, beginners, and professionals

Soft yarn balls

Sufficient material from basic to complex projects
Cons
Last but not least, this beginner crochet kit from SDJNLXS is another perfect kit to try your hands at crocheting without spending a huge amount. This kit contains high-quality 50 pieces worth of crochet essentials for basic to advanced level projects. You can easily craft scarves, socks, hats, belts, gloves, and more. 
The kit includes:
10 acrylic yarn skeins (25g each),

10 crochet hooks,

10 locking stitch markers,

4 yarn needles,

4 plastic U-shaped needles,

3 plastic bow-shaped needles,

4 safety pins,

1 tape measure,

1 scissors,

1 stitch remover,

2 reusable crochet bags, and more
This is a 2-in-1 kit as it can also be used for kitting simultaneously. 
Pros
Suitable for all crafters

100% acrylic yarn balls in vibrant shades

Easy to carry crochet bags

Aluminum-based long-lasting crochet hooks
Cons
Conclusion 
So, here you go. Whether you're looking for an entry-level crochet kit with limited elements or a full-fledged kit to craft even the complex projects in your leisure time, I've got you covered in this review guide. 
When choosing your crochet kit, it's recommended to go through the items list to make sure you don't need to purchase anything essential (hooks or needles) separately. 
Which crochet kit would you like to go with? Let us know in the comments below. Till then, happy crocheting. 
Frequently Asked Questions (FAQs)
What is the easiest thing to crochet for a beginner?
Answer: If you're a beginner, you could try to crochet a basic beanie hat, handkerchief, shawl, coaster set, a small blanket, and similar items. These are easy to handle and you'll find tons of YouTube tutorials to get started. 
Is crochet easier than knitting?
Answer: Yes, crochet is easier than knitting. This is because the former uses a single hook to stitch tight knots and there's no need to fidget your fingers between the needles. 
What size crochet hook is best for beginners?
Answer: The H-8 crochet hook is best for beginners. It's small (5mm) in size and feels good in the hands while stitching.
The post 6 Best Beginner Crochet Kits in 2022 appeared first on Art & Craft, DIY ideas and Tutorials - Craftbuds.