Extreme How To - DIY Home Improvement
Designed with durability in mind, Bosch releases a new 18V radio with a power station along with a compact version of the radio for maximum portability
Bosch Power Tools announced two new iterations of its jobsite radio, the GPB18V-5C, an 18V Jobsite Radio with Bluetooth® 5.0 and Power Station, and the GPB18V-2C, an 18V Compact Jobsite Radio with Bluetooth® 5.0. Both designed with durability, flexibility, and portability in mind, these radios are built for the roughest jobsite environments and their use even extends well beyond the jobsite.
Both jobsite radios have several ways to connect and listen to music, including Bluetooth® 5.0 providing connection to music streaming services or stored songs via mobile device. With USB charging capability, mobile devices will stay charged and ready at all times.
 "This is an update to our beloved jobsite radio making access to controls and features easier and more intuitive while continuing to provide features and functions users love," said Jocelyn Cronin, Product Manager for Bosch Power Tools. "We designed these models to give the market an upgraded durable radio with high quality sound and extended connectivity, while also offering a more portable, compact option. The professionals that use our tools work incredibly hard and we wanted to our radios to be as jobsite-tough as they are while adding a little extra fun to their workdays and weekends."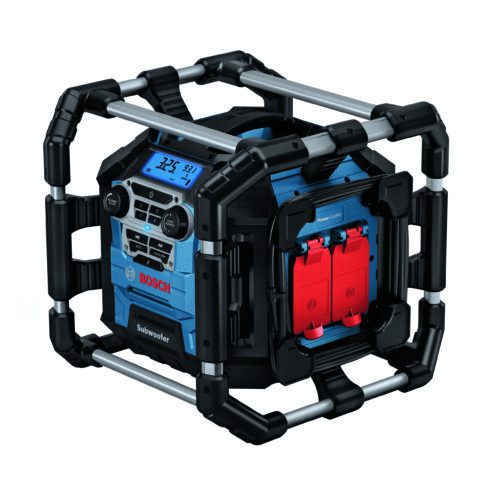 The GPB18V-5C offers convenience and flexibility with four 120V AC power outlets to power lights, tools, electronics and more. Its rugged design provides a protective aluminum and rubber roll cage built to last on even the toughest jobsites. Additional features include:
360-degree stereo sound – Four-way speakers with integrated subwoofer create high-quality, powerful stereo sound that projects in all directions
Hybrid power – Runs on Bosch's 18V Lithium-ion batteries or included 120V AC power cord
Digital media bay – Large secure storage for most mobile devices
Personalized sound – Includes separate bass and treble controls as well as five equalizer presets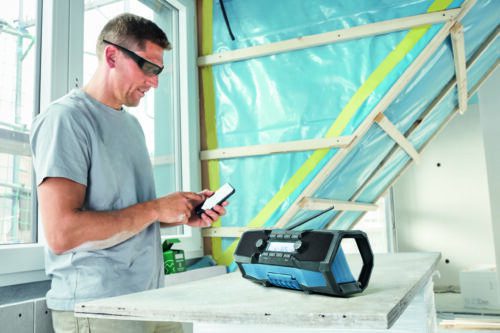 The GPB18V-2C is the compact version of the jobsite radio built with the same quality and durability. For environments where portability is key, this compact radio features handles and a hanging hook, along with a dust- and moisture-resistant design. Additional features include:
High-Performance Speakers – Feature enhanced bass response, delivering outstanding clarity and sound quality
Speakerphone – Conduct hands-free calls with integrated Bluetooth® speakerphone function
True Wireless Stereo (TWS) – Pair with second GPB18V-2C making one unit left speaker and second right speaker for wider stereo sound field
Hybrid Power – Runs on Bosch's 18V Lithium-ion batteries or included AC/DC adapter
Convenient Handles and Hanging Hook – Easy transport and placement at the jobsite, workshop, or wherever you play
For more information on the new jobsite radios and other Bosch products, connect with Bosch Power Tools on Facebook and Instagram.